This site is now closed as content is transitioned over to a new learning management platform at Ohio State.



Questions regarding the site closure can be directed to aging@osu.edu or call 614-293-4815.
________________________________________________________________
Welcome to The Ohio State University AHEC
Health Literacy Distance Education Modules!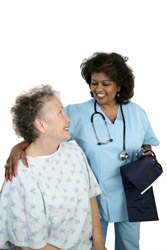 The Ohio State University AHEC Clear Health Communication Program offers comprehensive professional development and continuing education in the field of health literacy. The program was developed and managed by Dr. Sandy Cornett, a national leader in health literacy training, and continues to be guided by the OSU/AHEC Clear Health Communication Program.
The OSU AHEC Health Literacy modules are appropriate for physicians, nurses, therapists, counselors, and all health practitioners providing direct or indirect patient care. Learn about available continuing education credit.
By beginning with the core module, Health Literacy: It's Time To Take It Seriously! and continuing through the advanced modules, you will build valuable knowledge and skills to more effectively communicate orally and in writing with people who have limited literacy skills.
Low health literacy is a serious threat to the well being of patients seeking medical care, and ultimately to the stability of the healthcare system. Chances are high that some of your patients are among the 36% of Americans who struggle to understand and act on health information.
Consider some of the benefits of clear health communications and why it's important to all healthcare practitioners:
Better patient/healthcare practitioner relationship with increased satisfaction for both
Decreased exposure to litigation
Patients who are more able to follow medical advice and self-manage their care
Fewer broken appointments
And more.......
Have you ever thought the explanations you gave to patients and families were understood, only to find out later they misunderstood what you said, and an error was made? Read what one patient experienced when she tried to hide her shame about her inability to read well.
Dr. Cornett, the planner, content specialist, and feedback provider of these modules, has no conflict of interest to disclose. The planning committee has no conflict of interest to disclose. There was no commercial support or sponsorship for development of this program.
To successfully complete this program and receive contact hours you must receive 100% on the post test and complete the evaluation form.
Copyright Notice:
The Health Literacy Distance Education Program contains copyrighted materials. Materials may not be saved to your computer, revised, copied, or distributed without permission. Such materials are to be used as part of the modules only, and are limited to the duration of your participation in the modules, unless permission is granted from the program staff or the owner of the material.